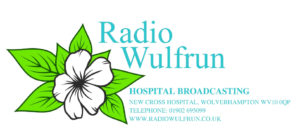 Radio Wulfrun is a free Radio Service available to New Cross Hospital, playing an eclectic mix of music, and entertainment 24 hours a day, 365 Days of the Year. Programming includes both Popular and Specialist Music Hours, alongside Drama, Stories, Interviews, Guests and Live Request Shows, including Hospital and Charity Based Information.
Programme Assistants visit the Wards Every Evening, talking to Patients, and asking if they would like a Request, or Dedication. These are then brought back to the Studios where they are incorporated into our Scheduled Programming. This results in a truly local service
The Station has been operating since September 1983, and has a small but loyal group of Volunteers who aim to make the Service relevant to the Patients during their stay. We currently broadcast via the Free Service on the Patient Entertainment System, located by the Individual Beds within the Wards.
We are a self-funding Organisation and all our Running Costs are met by Fund Raising Events that are held during the year, and our Patient Magazine produced by Smile Publications.
Richard J. Stanton
Chairman