Compton Hospice – Caring Together for 35 Years
2017 marks Compton Hospice's 35th Anniversary.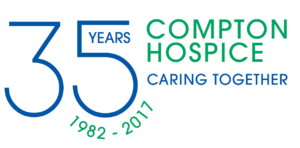 For three and a half decades Compton Hospice has been delivering care and support for families living with the effects of incurable illnesses. In that time the hospice is estimated to have supported over 35,000 patients, plus many more family members, across Wolverhampton, the Black Country, South Staffordshire and East Shropshire.
From humble beginnings caring for over 200 patients a year, Compton Hospice has grown and developed to support over 2000 patients every year offering care in both a person's home and in their dedicated hospice facilities.
One such person who has benefited from the care delivered by Compton Hospice is 70 year old Michael Jenkins. He comments: "I really enjoy my time at Compton Hospice. I visit the Woods Therapy Centre once a week and it really is fantastic. The company is fantastic, everyone mixes and has a laugh and we all get along. I feel really well looked after by the nurses, which comforts me and my family.
"I can honestly say that if I won the lottery tomorrow I would give a huge chunk of it to the hospice because they do such great work and deserve it."
Grace Lee, PR & Marketing Manager comments: "Compton Hospice would not be able to continue to do the great work it does were it not for the support of the public. We are so incredibly grateful to everyone for their contributions both as volunteers and fundraisers.
"However, with demand for our services growing year on year, we appeal foryour help more than ever.  Whether it's taking part in an event, giving a special gift or offering a couple of hours of your time as a volunteer, you'll be helping to improve the lives of people living with an incurable illness.
"If you'd like to find out more about how you can support Compton Hospice in our anniversary year please visit our website www.compton-hospice.org.uk for more information. Thank you for helping us continue to care."